On the 14th of June 2019 in Moscow Region State University took place the solemn awarding diplomas of University Paris 13 to the MRSU graduates, who trained in a joint program of double-diploma education.
In a solemn ceremony, acting rector of MRSU Veronica S. Zapalatskaya and Dean of the faculty of Humanities of the University Paris 13 Dr. Denis Perno gave out the honoured diplomas of the University Paris 13 to Polina Mukovnina and Sergei Gavrilov in the presence of students and teachers of the faculty Roman-Germanic languages.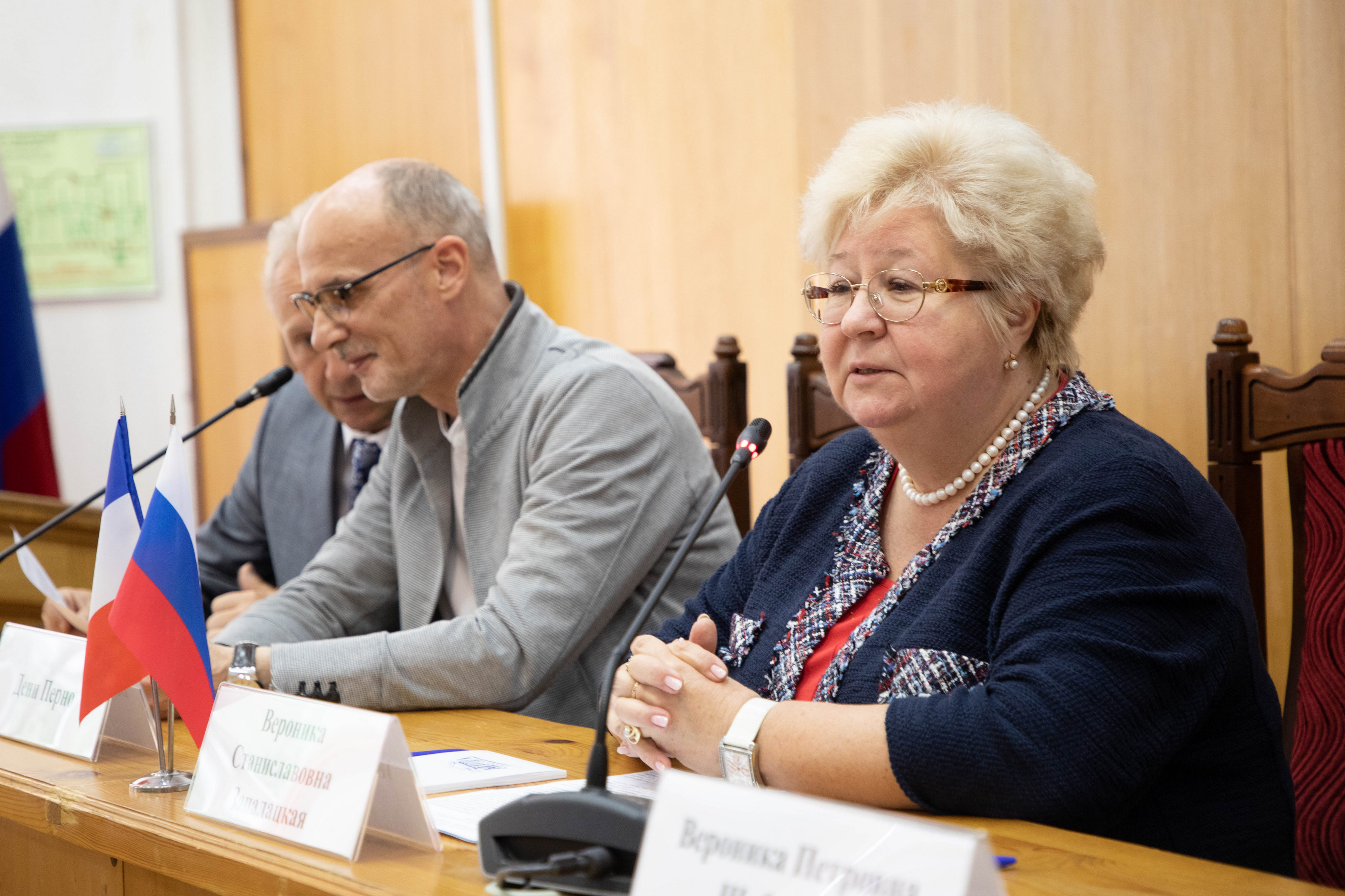 Welcome speech of acting rector of the University V. S. Zapalatskaya
In the speech, Veronica S. Zapalatskaya, highlighted the history of the development of the double-diploma program between University Paris 13 and MRSU. It is worth noting the importance of this event because just in 2015 the joint program started and now there are the first diplomas.
The joint double-diploma educational program is implemented as follows: the student passes 2 years of study at MRSU under the bachelor's program (Linguistics direction, Theory and methods of foreign languages and cultures teaching specialization). For the 3d year there is education at the French University Paris 13 at the faculty of Humanities, and as a must is getting success in examinations. For the 4th year student returns to MRSU and finishes his studies. Veronika Stanislavovna expressed her gratitude for the fruitful long-term cooperation between the University Paris 13 and Dr. Perno personally.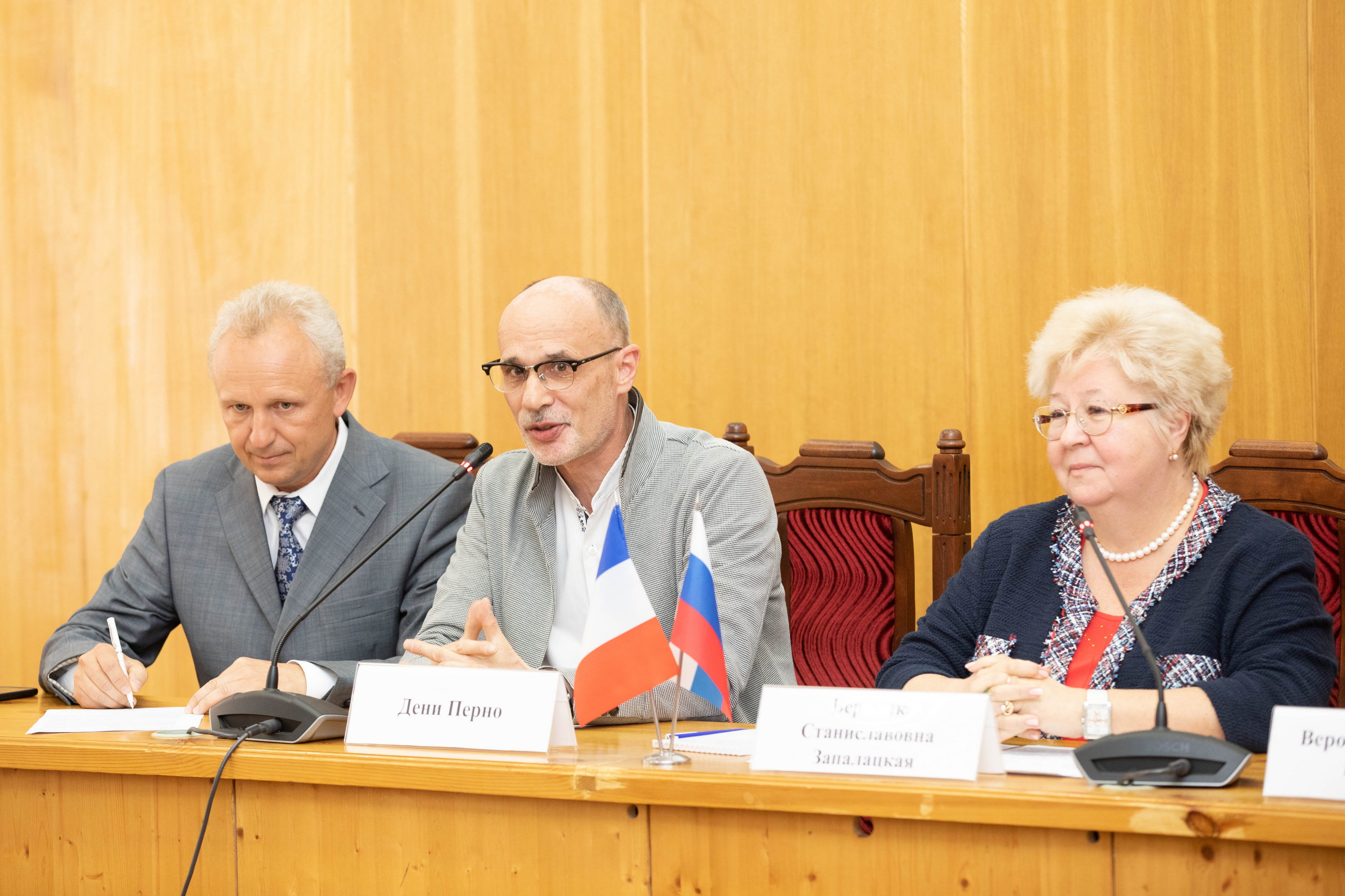 Speech by Dean of the faculty of Humanities of the University Paris 13 Dr.Denis Perno
In response to the welcoming speech, Dr. Perno noted the high level of training of MRSU students– participants of the program, who showed the excellent results in studies. He also thanked the acting rector of the University Veronika S. Zapalatskaya for the warm reception and successful cooperation.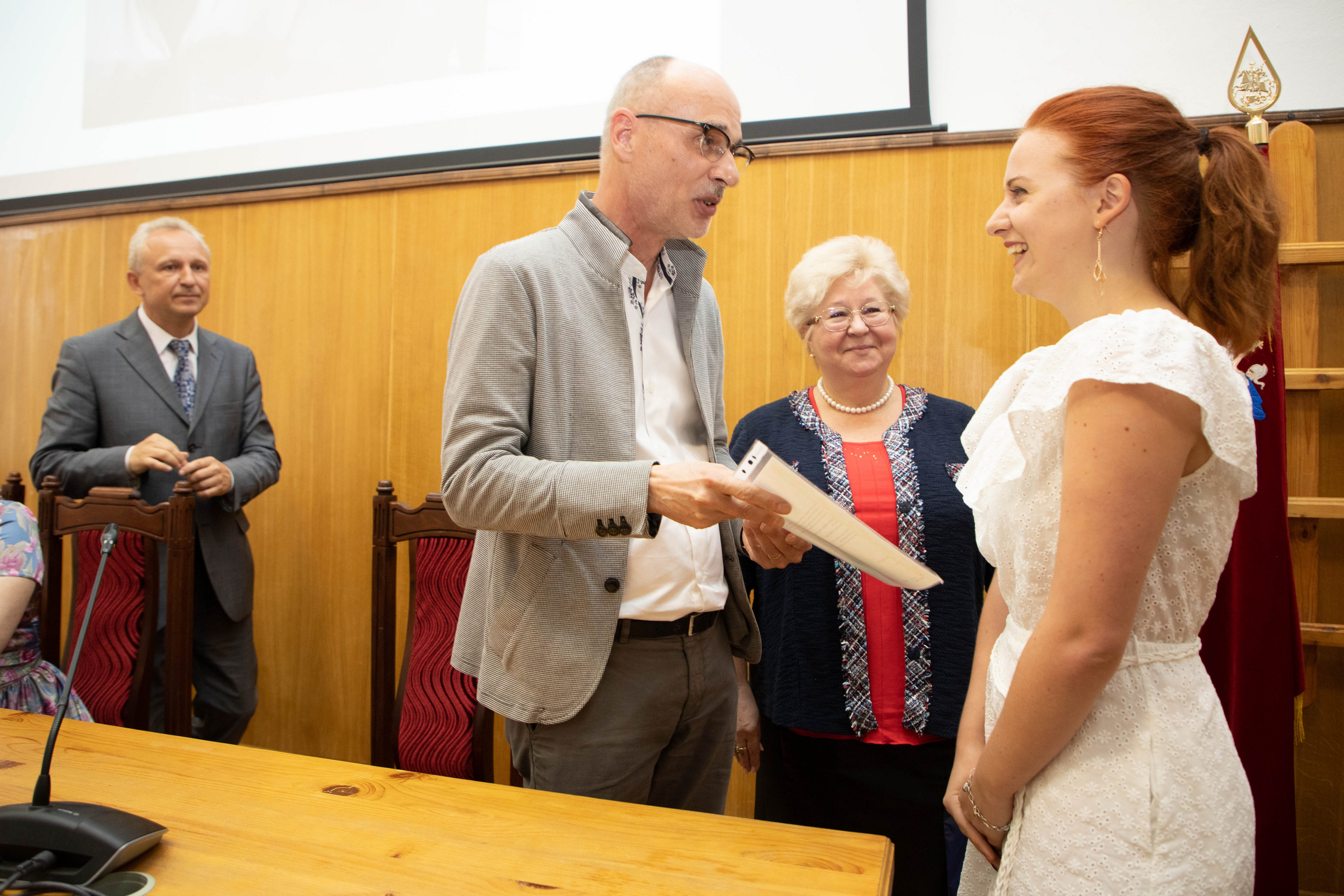 The diploma is awarded to Polina Mukovnina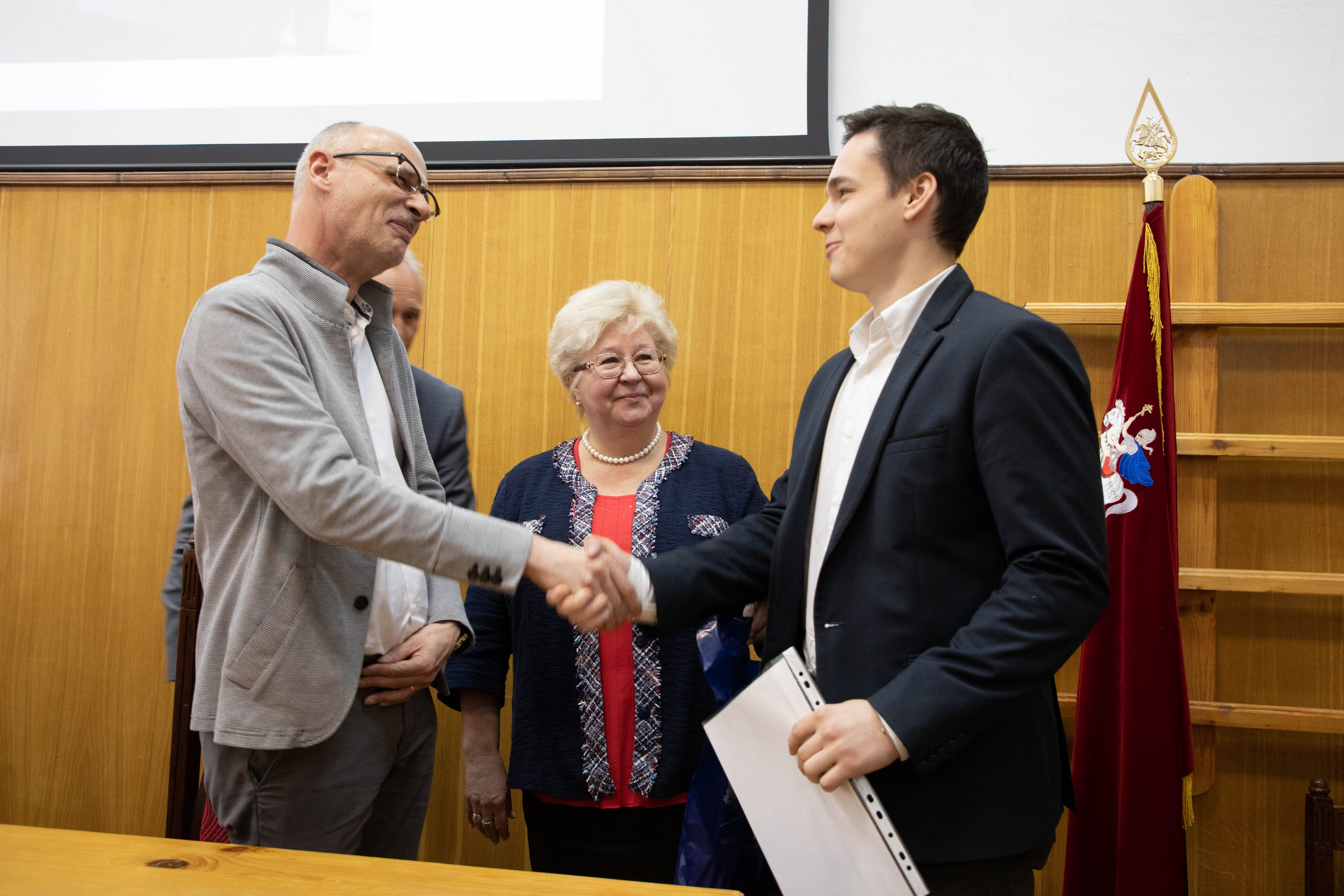 The diploma is awarded to Sergey Gavrilov
At the end of the graduation ceremony Veronika Stanislavovna wished happy birthday to the Dean of the faculty of Roman-Germanic languages Veronika P. Shabanova, drawing attention to the fact that it cannot be a simple coincidence that two such pleasant and important events are united by one day.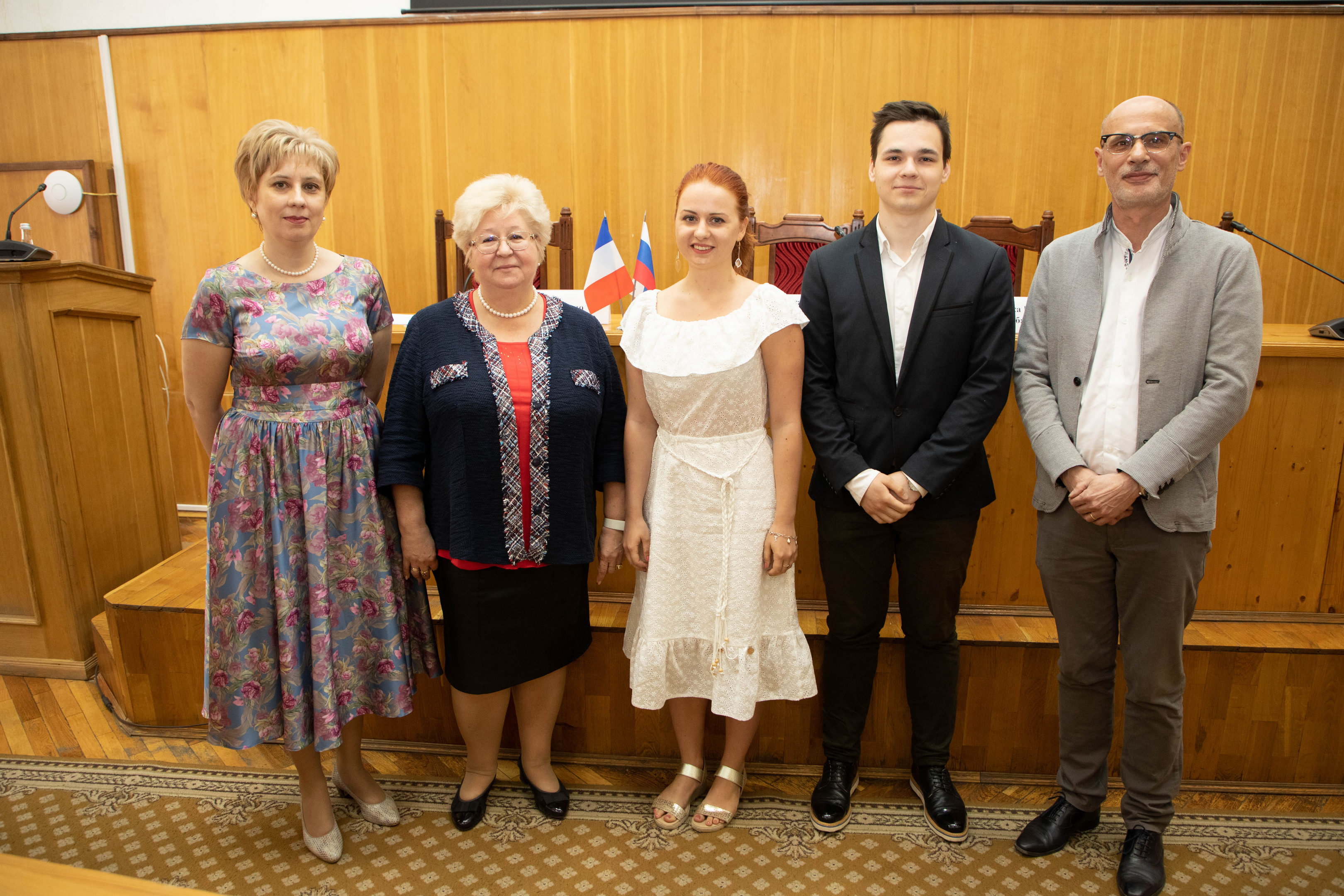 Dean of the faculty of Roman-Germanic languages Veronika P. Shabanova, Acting Rector Veronika S. Zapalatskaya, students P. Mukovnina, S. Gavrilov, Dean of the faculty of Humanities of the University Paris 13 Dr. Denis Perno