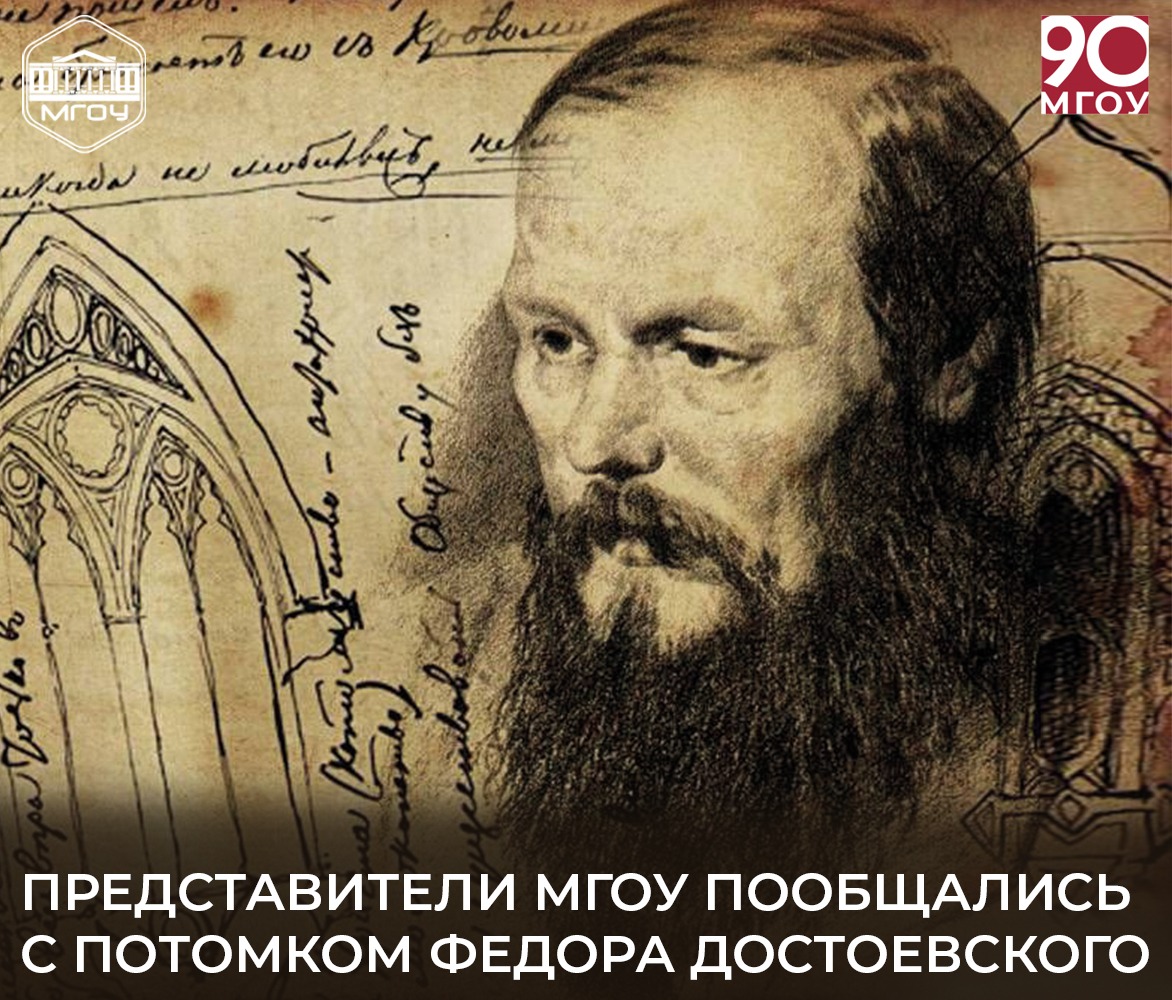 Representatives of Moscow Region State University met with the great-great-grandson of the writer Fyodor Dostoevsky at the 2nd International Conference "Dostoevsky and Italy". It was dedicated to the 200th anniversary of the birth of the great writer. The conference was held at Moscow State Institute of Culture in full-time and online formats in Russian and Italian.
Alexey Dmitrievich Dostoevsky is a multi-faceted personality. A teacher by education, captain of the Valaam Monastery Fleet, bass guitarist of the St. Petersburg folk band, father of four children, and his youngest son, Fyodor, is named after a great ancestor.
Alexey Dostoevsky spoke about his research on the work of Fyodor Mikhailovich. He spends a lot of time in the archives of Italy. It is there, as you know, that most of the novel "The Idiot" was written. Bit by bit, the great-great-grandson of the writer collects the details of the creation of the novel unknown to researchers. In the center of his attention– the Italian circle of communication of the writer, the places that he visited – all that created the atmosphere of the work.
The founders of the conference were MRSU, IPCC, the University of Catania (Italy), MSPPU, the Russian Academy of Painting, Sculpture and Architecture of Ilya Glazunov.
The participants were welcomed by the representative of the organizing committee-Dean of the Faculty of History, Political Science and Law of MRSU Vardan Baghdasaryan, researcher of the writer's historiosophy, author of a book about Dostoevsky; Honorary President of the International Dostoevsky Society Vladimir Zakharov; Vice-President of the Dostoevsky Society Aloe Stefano (Verona, Italy). He spoke about the influence of Dostoevsky on Italian culture.
The conference brought together major scientists from Russia and Italy who are studying the creative heritage of Fyodor Dostoevsky. Another representative of our university is the head of the Department of Methods of Teaching Russian Language and Literature at Moscow Region State University, Anna Shmeleva, author of publications and speeches about Dostoevsky. In the center of her attention is the study of Dostoevsky's journalistic heritage, his views on the problem of Russia and the Slavic world, and the peculiarities of teaching the writer's works in school.
The meeting of scientists was the first in the framework of events dedicated to the 200th anniversary of Dostoevsky of a project of the Russian Foundation for Basic Research. They will be held until November 2021.