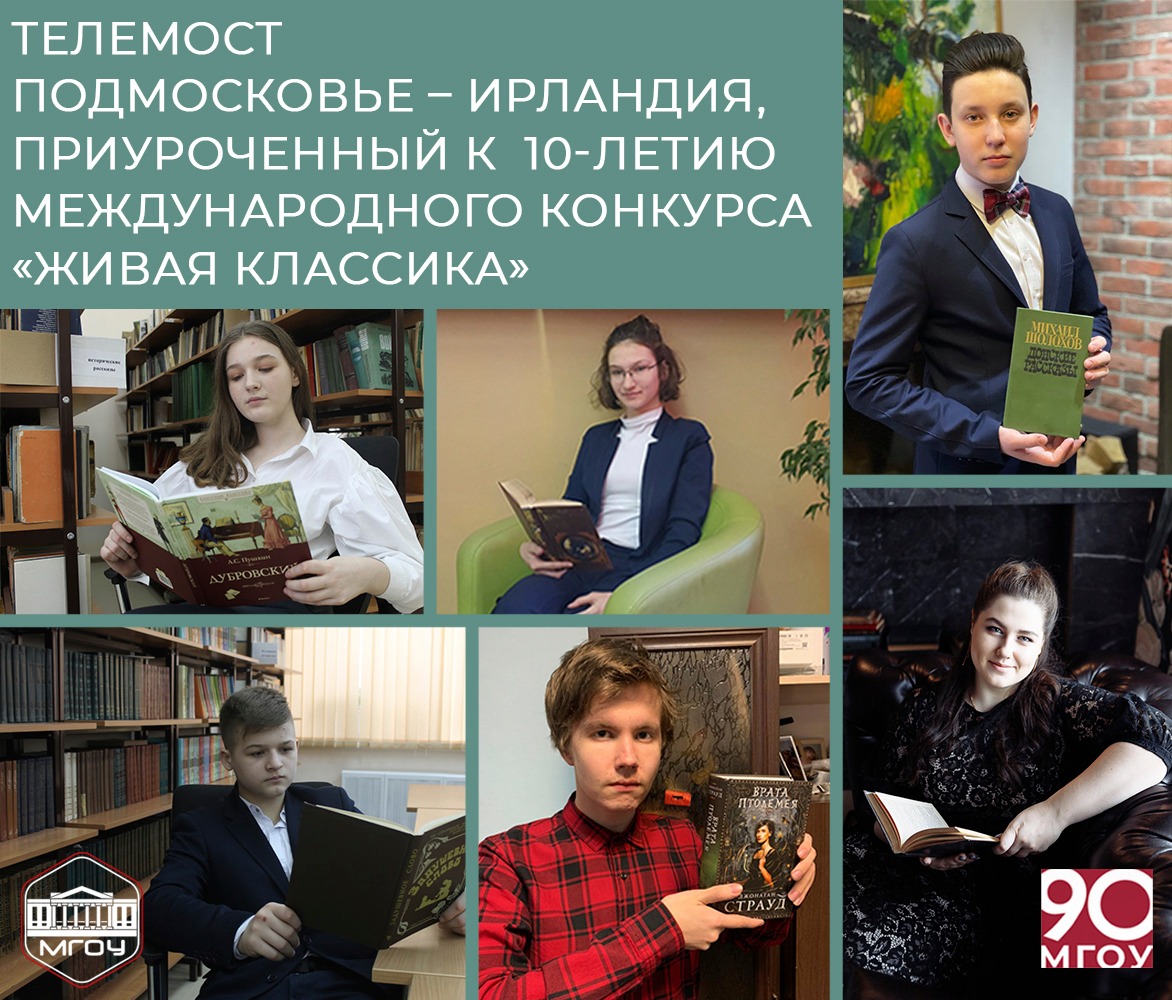 On March 20, the Moscow Region — Ireland teleconference was held with the support of the Russian Language Resource Center of Moscow Region State University, dedicated to the 10th anniversary of the International Competition "Living Classics".
The competition was attended by students of the Moscow region schools: Ivan Bychkov, Andrey Vyatkin, Nikita Glushkov, Varvara Zavyalova, Elizaveta Koksharova, Anastasia Ledneva, Alina Molodtsova, Ilya Ogorodnikov, Ekaterina Pustovalova, Anna Urtseva, Arkhip Khromov, Vladislav Chekunov and Anna Yasakova.
They prepared videos for students of schools in Ireland. These videos were about the most interesting places in the Moscow region: the Trinity Lavra of St.Sergius, the Kolomna Kremlin, the Arena Khimki stadium, museum- estate "Arkhangelskoe".
Russian poet Anna Shirmina, a post-graduate student of the Department of Russian Classical Literature of the Faculty of Russian Philology of MRSU read her poem dedicated to the teleconference.
The participants were welcomed by Daria Tsybulskaya, Project Manager of the "Living Classics" Foundation, supervisor of the All-Russian direction of the Young Readers Competition:
This year is very important for us. "Living Classics" celebrates its first anniversary, which means that the project does not lose its popularity, every year its geography becomes more extensive. 85 regions of Russia and more than 80 countries of the world read the "Living Classics"! We really want children from different parts of the World to have the opportunity to meet, communicate, and visit each other. We hope that international teleconferences will contribute to this.
Russian and Irish schoolchildren talked about what reading means to them, which writers are known in their region, what the "Living Classics" contest taught them, and which of the literary heroes they consider the happiest.
– The question about happiness was not asked by chance, – said Olga Alekseeva, Deputy director of the Russian Language Resource Center, curator of the teleconference from the Moscow region. – Our meeting with Ireland was held on the International Day of Happiness, which is celebrated on March 20. This is a significant event in the lives of schoolchildren of the two countries. Now we are preparing a literary surprise gift for our Irish friends.
Students from Ireland wished their peers from the Moscow region good luck on the correspondence round of the regional stage of the competition "Live Classics", which will be held on March 22.
You can watch the video of the teleconference on the website of the Russian Language Resource Center of Moscow Region State University, please follow the link.
https://na-uch.ru/?id=401