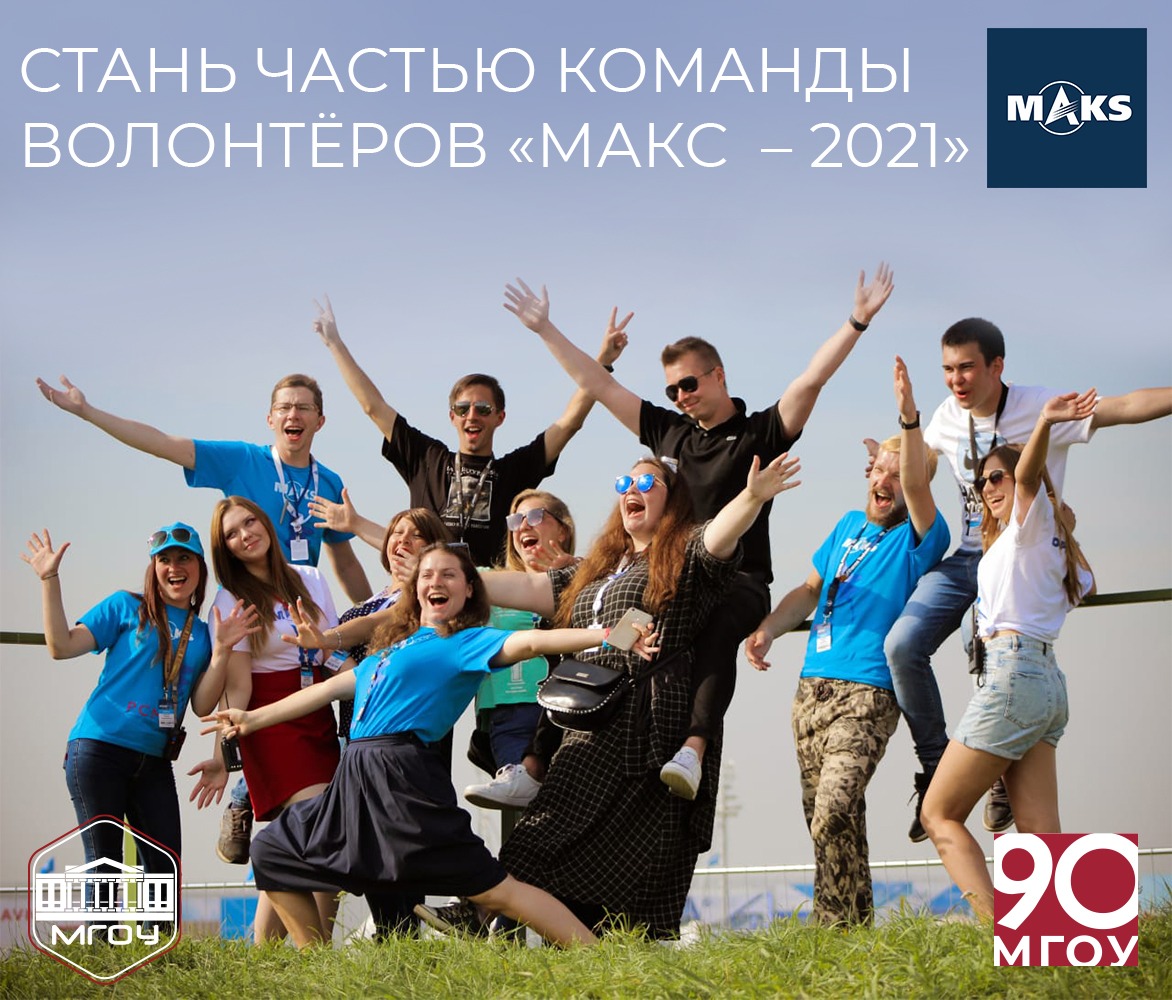 Would you like to become a part of a friendly team of MAKS volunteers-a project of the Russian Youth Union (the Moscow Region) and JSC Aviasalon? Take part in the International Air Show "MAKS-2021" on July 20-25!
Fill in the volunteer application form at the link and get ready for serious challenges! During the Air Show, you will have six days to prove yourself in 7 directions:
"Static exposition" – escort of helicopters and airplanes, informing visitors of the Air Show
"Parking" – regulation of traffic in parking lots, meeting of delegations arriving at the Air Show
"Business program – filling stands with booklets, flyers, their distribution, navigation
"Children's and Youth program" – conducting master classes, working on the playground
"Press Center" – creation of photo and video content, writing articles, layout and design, working with social networks, accompanying guests to the media platform, assistance in holding press conferences and autograph sessions
"Priority" – meeting VIP guests, escorting to the PRIORITY zone, ticket verification, VIP guest registration, navigation
"CHECKPOINT" – meeting of delegations and guests of the Air Show, their coordination, informing the visitors of the Air Show.
The qualifying stages are held by the "Running Community", which unites all the projects of the Moscow Marathon team, the Swimcup Champions Cup, the Krasnogorsky Sports Film Festival and the Moscow Region State University Volunteer Service.
Its head is Ilya Novozhenov, a graduate of the Faculty of Technology and Entrepreneurship of our University. Ilya has been working in the MAX team for more than 10 years:
– Becoming a MAKS volunteer is a great opportunity to participate in an international event, gain professional skills that will be useful in the future, and pass a training internship!
Fill out the volunteer application form by June 1! If you still have questions, please contact the MRSU Volunteer Center or visit the website.
https://life.mgou.ru/live/associations/volunteer_center/